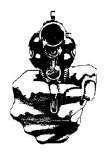 The approaching semester and the persistent economic crisis have pushed some residents to
rob arriving University students at gun-point
. There has always been some animosity directed at the many schools here by local residents at the Universities that do not pay taxes in a city that is bankrupt, even as they swallow up more and more local property.
My own preparation for the upcoming semester is filled with some excitement but mostly dread. My exam committee was mostly on vacation whilst I submitted my first petition on-line (in early July) and I have only received comments back from my advisor (albeit they are not his typical life-ruining/sardonic fare, as in "I haven't a clue what you are saying here", but actually rather helpful). Not having my petition approved when having to potentially face faculty who will be insistent about my tardiness with the exam process in general (technically I should have submitted my answers and taken my oral defense by the end of September, this is not happening) is another blow to my already ailing confidence. Also, I am hustling to get my syllabus ready for my course on U.S. Latino Literature to which I am partially looking forward, and yet severe doubts about my capacities as an instructor undermine this excitement.
In other news trying to get my partner, Five, covered by my health insurance under the University's domestic partnership provision has proved to be more difficult that I ever expected, including having the obtain a legally binding "Will" and "Medical/Financial Power of Attorney," something we should do at some point, but are financial burdens just to make sure Five can get his medications and emergency services covered.